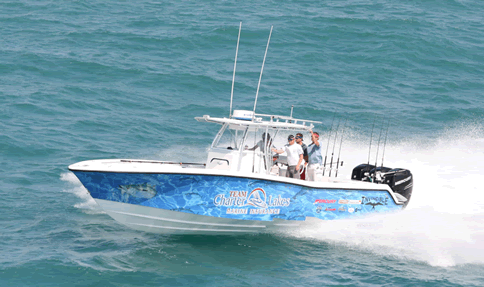 As an avid angler you are serious about catching fish. Much of your success depends on your boat and equipment, so you don't skimp on either. The same should be true of your insurance. The Anglers Choice Insurance Program was developed for Anglers by Anglers to provide broad insurance protection at an extremely competitive rate - whether you fish just for fun or on the tournament trail. Charter Lakes has been insuring Recreational Fisherman and Tournament Anglers for more than 30 years. That experience has resulted in an insurance policy designed specifically for owners of inshore and offshore fishing vessels.
Coverage features include the following:
Physical Damage – written on an Agreed Value basis
Consequential Damage Clause
Fishing Equipment
Protection & Indemnity (P&I)
Professional Angler Liability
Pollution Liability
Medical Payments
Tournament Fee Reimbursement
Towing and Emergency Assistance
Unlimited Trailering within the continental United States
24 hour claims service
* Please consult one of our agents for complete explanation of coverage
** Standard program features shown above, optional coverage and higher limits are available
Putting our team behind your team is a winning combination
COMPARISON WITH OTHER PROGRAMS:
MECHANICAL BREAKDOWN - The Anglers Choice policy does not have a mechanical breakdown exclusion. This could mean the difference between having an engine failure covered or not. Many policies SPECIFICALLY EXCLUDE any claim resulting from mechanical breakdown - no engine coverage. Overheating, electrical failure and fuel problems may be excluded.
PROTECTION AND INDEMNITY LIABILITY P&I - This is the broadest form of marine liability insurance available. Many policies only provide watercraft liability, not P&I, and only offer maximum liability limits of $500.000. Tournaments trails and corporate sponsors may require teams to carry $1,000,000 limits.
TOURNAMENT COVERAGE - The Anglers Choice policy specifically defines the use of vessel to include coverage for your vessel, machinery, equipment and your fishing gear while used in fishing tournaments. Most personal use policies exclude all "commercial use" of the insured vessel and will consider Tournaments "commercial use" as vessel is being used to generate income. They may refuse to pay your claim if you hit a rock, damage your boat/motor and the accident occurred while fishing a tournament.
PROFESSIONAL ANGLER LIABILITY - This is coverage is included for liabilities you may become liable for through your activities as a Professional Angler whether directly or indirectly associated with the insured vessel. Conducting fishing seminars, exhibiting at sport shows, distributor shows or dealer open house appearances are just some examples. Most personal polices DO NOT OFFER THIS.
FISHING EQUIPMENT - The Anglers Choice Policy extends coverage for your fishing equipment when it is in your boat, while stored ashore, or while locked in your vehicle. Other insurance policies merely afford coverage while the equipment is ABOARD THE BOAT ONLY. Note – A home owner's policy may not cover your fishing equipment at all as it is considered commercial property.